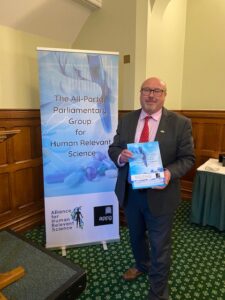 On Tuesday 22nd March 2022, Grahame Morris MP hosted the publication of the APPG for Human Relevant Science's new report "Bringing Back the Human: Transitioning from Animal Research to Human Relevant Science in the UK" at the Houses of Parliament, Westminster, London.
The report makes the case that the UK's system for funding research and innovation is holding back the discovery and development of new medicines and treatments to meet today's health challenges. MPs called for a new government Minister for Human Relevant Science to drive the transition to human relevant science necessary to advance treatments for diseases.
Read the full report and a summary here.