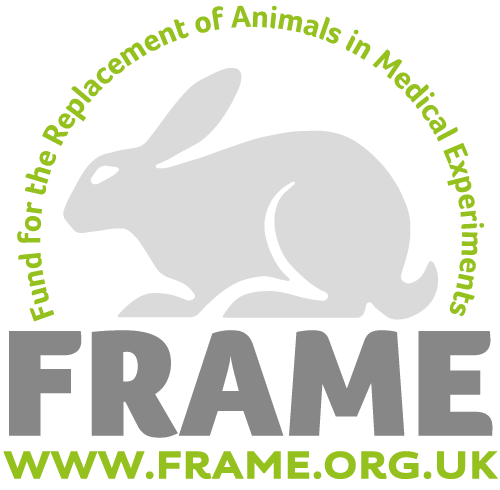 FRAME
Cawley House
149 – 155 Canal Street
Nottingham
NG1 7HR
+44 (0) 300 030 1016
hello@frame.org.uk
About
FRAME (Fund for the Replacement of Animals in Medical Experiments) is a charity committed to replacing the use of animals in research. FRAME have been actively funding, researching and promoting non-animal approaches to scientific and medical research and testing for over 50 years. Today we remain dedicated to furthering the development of valid human-centred research methods that will increase our knowledge and understanding of human disease and provide effective safety data for chemicals and drugs without the use of laboratory animals. We fund cutting-edge, human-tissue based research at the FRAME Laboratory at the University of Nottingham and other innovative ideas and projects via our annual Grant Programmes. We promote and disseminate non-animal methods via  our website, social media, newsletters, reports, and training courses. We also publish the longest-running peer-reviewed scientific journal dedicated to promoting alternatives to animal use, ATLA (Alternatives to laboratory Animals).
We engage with current and future researchers through our education and training work. Quality science, robust experimental design, collaboration and communication are all key to ensuring the continued development and uptake of novel, reliable non-animal methods, and reducing the flawed reliance on animal research models to predict human responses. Where non-animal alternatives do not yet exist FRAME support the correct implementation of the 3Rs to reduce animal numbers and limit suffering.
We believe that working with the international scientific community, journals and regulators; educating future generations of scientific researchers and decision makers, and engaging with the public on the issues are all key drivers for change that will help end the use of animals in testing and research.