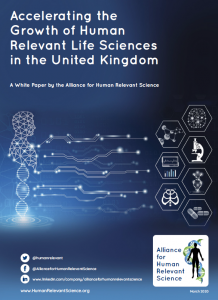 The Alliance for Human Relevant Science, calls for a fresh approach to biomedical research and drug discovery.
New approach methodologies (NAMs) that are human relevant have the potential to improve the efficiency of drug research and development and to deliver safer, cheaper and more effective medicines to patients.
In the released White paper 'Accelerating the Growth of Human Relevant Life Sciences in the United Kingdom', the Alliance calls for support from the Government to assist businesses in the transition to NAMs by providing supportive infrastructure, strategic funding, education, collaboration between industries and regulatory engagement.
There is an opportunity for the UK to be a world leader in developing and evaluating NAMs. Investment in human relevant methods is good for both business and public health.
Read the White Paper summary document
Read the full paper